18 Avenue De Triomphe - LOCATION
18 Avenue De Triomphe is located at Arcovia City, Brgy. Ugong, Pasig City.
The property, 18 AVENUE de TRIOMPHE is located at Arcovia City, Brgy. Ugong, Pasig City. 
We all know that Pasig City is certainly one of Metro Manila's major cities. As early as the 1990's – this bustling city has been  considered as the most promising city of Metro Manila because of the emergence of   then Ortigas  Center. This has enormously changed the landscape of the metro. Big multinational firms as well as major local companies set up their head offices in the city, right at the center  - yes, the  Ortigas Center. Slowly, big businesses took notice of the city's presence as a viable option to Makati or Bonifacio Global City
Where do you go that's middle of the North and South of Manila? Pasig City it is! A short drive to Quezon City, at the same time traveling to Mandaluyong, Taguig and Makati cities will take you there in a few minutes – can you beat that? 
It is indeed the best of both worlds, as it is a  big option  for those living in this part of the metropolis. How can we not mention this? Greenhills, Ortigas Center, San Juan, Eastwood and Cainta are also places of interest that are just nearby. Indeed, this location is very significant and helpful.  
If we talk of the biggest malls – Pasig City has them all.   The city is  the "go-to"  place of singles, couples, families or groups of friends who want to enjoy the big and popular shopping destinations  like SM Megamall, Robinson's Galleria, , The Podium, EDSA Shangri-La Mall and also the newer malls like  Tiendesitas, the Estancia Mall and the posh AYALA 30th Mall.  There are also other places for one's dose of retail therapy like: Forum Robinsons Pioneer, Crossings Mall and Supermarket,  Unimart in Greenhills and Puregold.  What else are you looking for? 
Parents value their children's education and consider it as a topmost priority.  There are a number of good schools within the proximity of this location.  For the students – there are lot of prestigious  educational institutions around the community. Some of these include:  La Salle Greenhills, St. Pedro Poveda College,  St. Pauls College Pasig, University of Asia and Pacific, Immaculate Conception Academy in Greenhills, Xavier School in Greenhills, the APEC Schools, Pasig Catholic College, Lourdes School Mandaluyong and Pasig City Science High School. Oh, wow --- there are lots of schools to choose from so having a reputable school for your kids will never be a concern when you're right here in this part of the metro.  
For the medical institutions, these are also within a short distance away so it will be easier for you to do medical consultations or worse, if you happen to be caught up in emergencies. Reputable hospitals such as The Medical City, Cardinal Santos Hospital and  St. Luke's Hospital in QC.  
For some thanksgiving and prayers – there are a number of churches nearby, both Catholic and non-Cathoilc Churches. These are as follows: Landmark Bible Baptist Church. St. Francis Church, EDSA Shrine Church, Sto. Rosario Church, Sta. Rosa de Lima Church,  Sta. Lucia Parish, CCF Center, Bread from Heaven Church, Bible Baptist Center, Iglesia ni Kristo churches as well as  Church of Christ of Jesus Christ  Latter Day Saints' churches. 
Going to the airport for your trips, whether local or international travels? This is not a concern either as you will be there   quickly  at any of these Terminals 1,2 and 3  of Ninoy Aquino International Airport.  Getting around between cities is never a problem, too. Public transport is available – whether pedicabs, jeepneys, buses and taxis transport available – jeepneys, pedicabs and taxis plying the major thoroughfares of the city.
St. Pedro Poveda College
Immaculate Conception Academy - Greenhills
La Salle Green Hills
University of Asia and the Pacific
Lourdes School of Mandaluyong
Xavier School
St. Paul College Pasig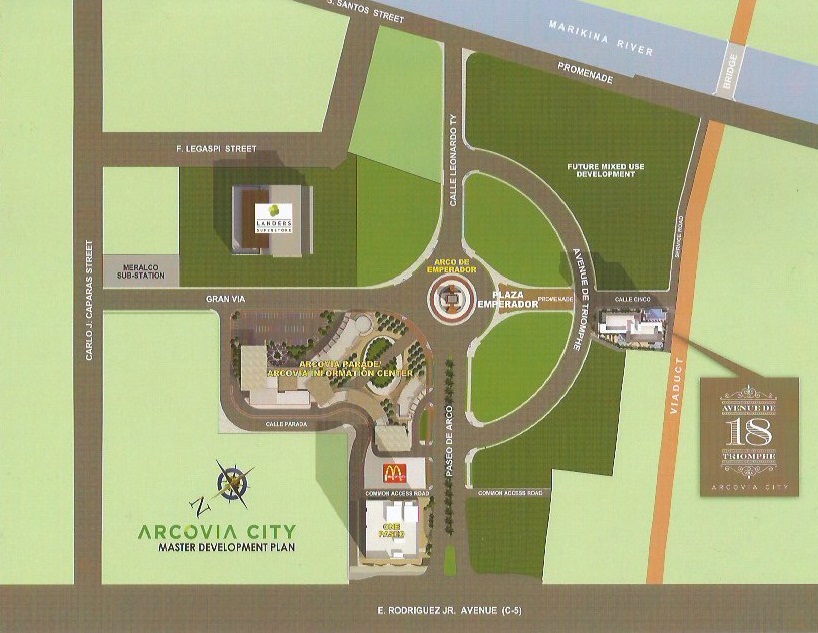 The 18 Avenue De Triomphe is situated east of the famed Valle Verde residential subdivision series (Valle Verde 1 to 5) which are the homes of Pasig's elite. These high-end residential properties of Valle Verde are fully secured horizontal communities, just like the Triomphe.
Interestingly, the Valle Verde home series is where the brilliant minds of the Ortigas Center live that is why you have the chance to be near their territory and have the opportunity to mingle with them. In this regard, you too can be trained to be the foremost mind in future business endeavors that will shape every body's future.
Moreover, the C-5 Road in Pasig City, where the Triomphe and the ArcoVia City are situated, leads to key destinations in Metro Manila, and even the adjoining province of Rizal. Even if you are a frequent traveler, within the country or outside of the Philippines, you are only an hour away from the NAIA Terminals and the domestic airport in Pasay City. From the 18 Avenue De Triomphe, the international/domestic airport is less than 10km away to the southwest (a mere one-hour drive), via C-5 and through Kalayaan Avenue- EDSA, and the NAIA Expressway. Living in the Triomphe will also bring you closer to the world!